Enhanced UHPLC Reliability
Verbesserte Zuverlässigkeit in der UHPLC
Eine Injektionszeit von nur 7 Sekunden und eine Zykluszeit von 14 Sekunden
Der Nexera X2 Autosampler unterstützt schnelle Injektionen, um den Durchsatz zu erhöhen. Der SIL-30ACMP erreicht eine Injektionszeit von 7 Sekunden und eine Zykluszeit von 14-Sekunden, so dass er sich ideal für schnellste Analysen eignet.
Minimierung von Verschleppung durch mehrere Spüllösungen
Die Nexera X2 Autosampler SIL-30AC und SIL-30ACMP sind nahezu verschleppungsfrei. Das verbesserte Design hält das geringe Verschleppungs-Niveau, um auch bei langfristiger Nutzung, eine zuverlässige Analyse zu gewährleisten.

Sowohl der SIL-30AC als auch der SIL-30ACMP unterstützen die Verwendung von mehreren Spüllösungen, um die Nadel-Außenfläche und –Innenfläche gründlich zu spülen und Verschleppungen zu minimieren.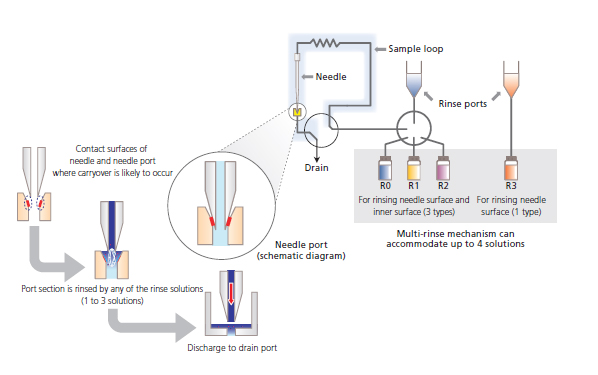 For Research Use Only. Not for use in diagnostic procedures.
This page may contain references to products that are not available in your country.
Please contact us to check the availability of these products in your country.