Intelligence in UHPLC/HPLC Analysis (i-DReC)
Intelligenz in der UHPLC/HPLC Analyse (i-DReC)
Erweiterung des dynamischen Bereiches mit i-DReC
(intelligent Dynamic Range extension Calculator, Patent angemeldet)

i-DReC ist eine neue analytische Methode, die den dynamischen Bereich deutlich erweitert. Sie ermöglicht die Analyse von Proben mit hoher Konzentration ohne sie vorher zu verdünnen, und sorgt für eine korrekte Kalibrierkurve.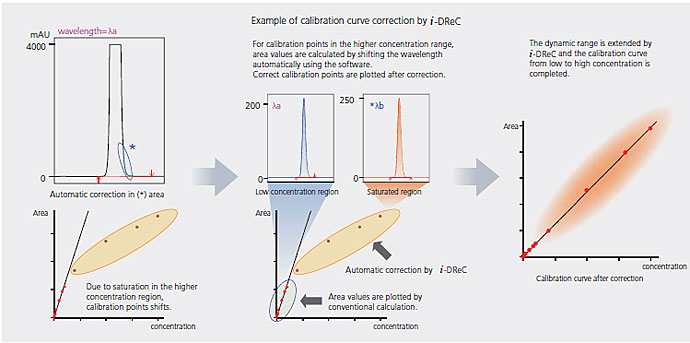 Gleichzeitige quantitative Analyse von Komponenten mit großen Konzentrationsunterschieden.
Als Beispiel wird die gleichzeitige quantitative Analyse von Paracetamol, Koffein und einer Verunreinigung gezeigt, die in einem verschreibungsfreien Medikament enthalten sind. Kalibrierkurven können aus einer einzigen Analyse sowohl des hoch konzentrierten Paracetamol als auch von der Verunreinigung im Spurenbereich gewonnen werden.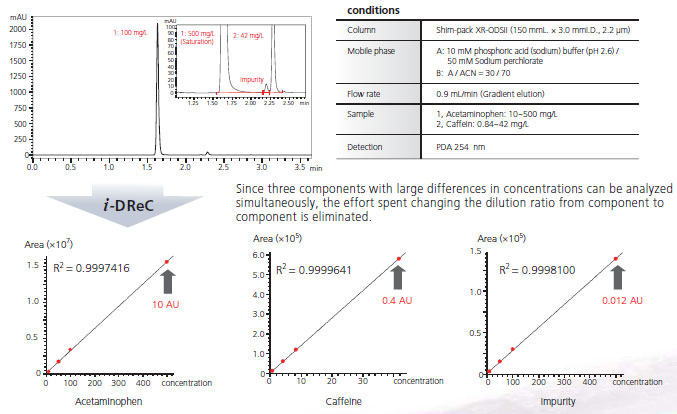 For Research Use Only. Not for use in diagnostic procedures.
This page may contain references to products that are not available in your country.
Please contact us to check the availability of these products in your country.