Maximimierte Auflösung
Außergewöhnliche Peakform für ein Maximum an Peak-Auflösung
In schnellen Analysen beeinflusst die externe Säulendispersion die Auflösung der Peaks. Die SR-Zelle im SPD-M30A realisiert durch ihr minimales Zellvolumen eine exzellente Peakform und höchste Auflösung, wodurch echte UHPLC Analyse unterstützt wird.
Hohe spektrale Auflösung und Linearität
Der SPD-M30A hat eine unübertroffene spektrale Auflösung durch die Verwendung eines optimierten optischen Systems. Zusätzlich wird durch eine neue Signalverarbeitung eine exzellente spektrale Linearität über einen weiten Bereich von niedriger bis hoher Konzentration realisiert. Der SPD-M30A unterstützt Analysen, wie Reinheitsprüfungen, welche einen großen dynamischen Bereich erfordern.

Das Nexera SR System für höchste Empfindlichkeit und Auflösung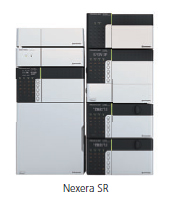 Das Nexera SR-System ist mit dem neuen SPD-M30A Photodiodenarray-Detektor konfiguriert. Die neue i-PDeA Technologie (Patent angemeldet) bietet einen neuen Ansatz für die Trennung von Co-eluierenden Peaks und die Extraktion von Verunreinigungspeaks vom Hauptpeak. Höchte Empfindlichkeit und Auflösung erweitert den Bereich der UHPLC-Analysen.
For Research Use Only. Not for use in diagnostic procedures.
This page may contain references to products that are not available in your country.
Please contact us to check the availability of these products in your country.