Shimadzus eigenentwickelte innovative nSMOL-Techologie (nano-Surface and Molecular Orientation Limited Proteolysis), ermöglicht die selektive Proteolyse der FAB-Region monoklonaler Antikörper. Das nSMOL Antikörper BA Kit ist ein "Ready-to-use" Kit-System zur Anreicherung monoklonaler Antikörper aus Blut oder anderen biologischen Matrizes. Die Antikörper werden zunächst über Immunglobuline angereichert. Danach werden die FAB-Regionen dieser Antikörper selektiv durch an Nanopartikel gebundenes Trypsin gespalten. Die resultierenden Peptide können anschließend über die MRM-Analyse mit High-End Triple-Quadrupol-LCMS Systemen wie dem LCMS-8050/8060 ermittelt und quantifiziert werden.
Der unvergleichbar komfortable und schnelle Arbeitsablauf des nSMOL Antikörper BA Kit verbessert die Produktivität und die Robustheit der LCMS mAb Bioanalyse erheblich.

Schnelle und kostengünstige Methodenentwicklung
Erheblich verbesserte Selektivität und quantitative Reproduzierbarkeit. Keine Aufwendige Isolation von Antikörpern oder Liganden nötig.


nSMOL Proteolyse
Die selektive Anreicherung der FAB Antikörper minimiert Verunreinigungen durch andere Peptide oder durch Trypsin.


Leistungsfähig & vielseitig einsetzbar
Für eine Vielzahl von pharmazeutischen Antikörpern sind hochempfindliche und genaue Analysen möglich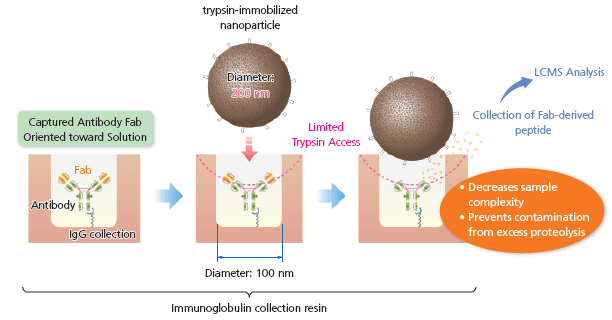 Einfacher Arbeitsablauf
Das nSMOL Kit-System ermöglicht hoch reproduzierbare Daten und vermeidet zusätzliche Arbeitsschritte wie Denaturierung, Reduktion und Alkylierung, die normalerweise mit dieser Analytik verbunden sind. Es besteht auch keine Notwendigkeit für eine Festphasenextraktion nach der Aufarbeitung. Nach der nSMOL-Vorbereitung können die Proben direkt auf dem LCMS vermessen werden.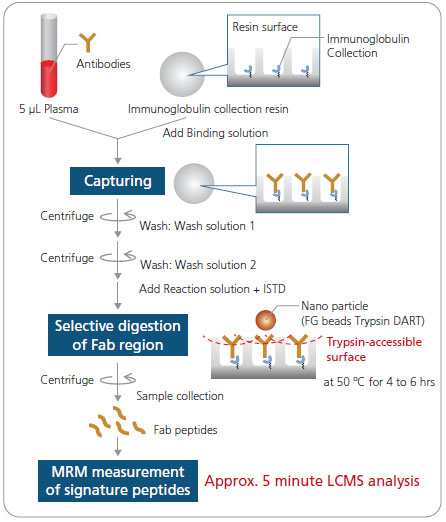 Kit Zusammensetzung
Das nSMOL Antikörper BA Kit beinhaltet Reagenzien und Protokolle für die Probenvorbereitung.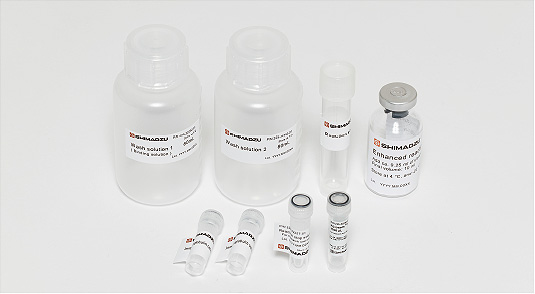 Produktspezifikationen:
Item
Specifications
Detection Targets
Monoclonal antibodies in serum or plasma (including antibody pharmaceuticals)
Number of Measurement
100 assays
Approximate volume of sample
90 μl (before LCMS injection)
Storage Temperature
Specified for each reagent
Expiration Date
18 months from the date of shipment if unopened and stored at 4℃
(*For FG BeadsTM Trypsin DARTTM, 18 months from the date of shipment if stored at -80℃)
Produktkonfiguration:
Reagent
Quantity
Capacity
Storage
Temperature
Immunoglobulin Collection Resin
2
1.3 mL/each
4℃
Wash(Binding)Solution 1
1
80 ml
4℃
Wash Solution 2
1
80 ml
4℃
Reaction Solution
1
10 ml
4℃
Enhanced Reaction Solution
1
Freeze-dried
4℃
Reaction Stop Solution
1
1 ml
4℃
FG Beads™ Trypsin DART™
1
1.1 ml
-20℃*1
Kit P/N
225-32250-91
*1 If it is being stored for a month or longer, store it at -80 °C.
Die folgenden Verbrauchsmaterialien sind separat zu bestellen:
Specied Consumables
Manufacturer
P/N
nSMOL reaction socket tube
SHIMADZU
225-32260-91
225-32260-92
Ultrafree-MC, GV 0.22 μm
Merck Millipore
UFC30GV00
UFC30GVNB
Micro tube 2mL, PP
SARSTEDT
72.708
Hinweis: Für zusätzliches Verbrauchsmaterial bitte die Bedienungsanleitung beachten.
Zusätzlich empfohlene Geräte/Materialien:
Required Items
Recommended Specifications
Reference Products
5 μm filtration filter
Prepare a syringe and syringe filter with a pore size of 5 μm.
Millex-SV 5.0 μm, PVDF, 25 mm,
PVC housing, non-sterile,
SLSV025NB, Merck Millipore
0.8 μm filtration filter
Prepare a syringe and syringe filter with a pore size of 0.8 μm.
Millex-AA Syringe Filter Unit, 0.80 μm,
mixed cellulose esters, 25 mm, PVC housing non-sterile,
SLAA025NB, Merck Millipore
2 mL Sample Tube
・Polypropylene
・Round bottom tube
Item name:Safe-Lock Tubes
P/N:0030 120.094
Sold by:Eppendorf
Micro Tube Mixer
・Used at room temperature or 50 ℃.
・Can be installed inside the incubator.
・Set available with a 1.5 mL tube, a 2.0 mL tube, and a filter tube.
Item name:Micro tube mixer
Model:MT-400
Sold by:Tomy Seiko Co., Ltd
Incubator
・Incubator with a humidistat, or an incubator that a tray filled with water can be placed inside in order to maintain saturation vapor pressure
・Big enough that the above-mentioned micro tube mixer can be installed
Item name:Incubator with a freezer
Model:MIR-254-PJ
Sold by:Panasonic Healthcare Co., Ltd.
Micro Pipetter, Tip
Tip without plasticizer to avoid plasticizer contamination in the MS (colorless)
(1) Brand name:Rainin Sold by:Mettler Toledo
(2) Brand name:Biohit Sold by:Sartorius
Desktop Centrifuge
Capable of centrifugation of 1.5 mL tubes, 2.0 mL tubes, and filter tubes at 10,000 μg and 12,000 μg
Product series name:MX series high speed micro centrifuge
Sold by:Tomy Seiko Co., Ltd
Magnetic Tube Stand
Capable of magnetically separating FG beads trypsin DART
Item name:Magnet stand
Model:TA4899N12
Sold by:Tamagawa Seiki Co., Ltd.
LCMS Vials
Low adsorption type, or vials without plasticizer Item name:TORAST-H Bio Vial
Item name:TORAST-H Bio Vial P/N 980-19983
Sold by:Shimadzu
Analysis Column
Capable of peptide separation and analysis

Item name:Shim-pack GISS
Inner dia. 2.1 mm ×length 50 mm,
particle size 1.9 μm
P/N: 227-30048-01
Sold by:Shimadzu

Internal Standard Solution
Capable of sensitivity and retention time correction
Item name:ProteoMass P14R MALDI-MS standard
Catalog no:P2613
Sold by:Sigma-Aldrich
For Research Use Only. Not for use in diagnostic procedures.

This page may contain references to products that are not available in your country.
Please contact us to check the availability of these products in your country.