LC/MS/MS Methodenpaket für Primärmetaboliten
Messbedingungen "Ready-to-Use"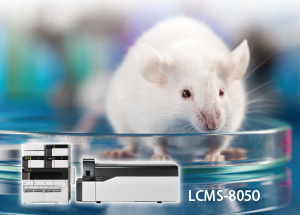 Shimadzu's Methodenpakete bieten dem Nutzer Messbedingungen für eine schnelle und effiziente Multikomponentenanalytik.
Sie ermöglichen eine schnelle und einfache Implementierung komplexer Messmethoden ohne eine kosten- und zeitaufwendige Eigenentwicklung der Probenaufarbeitung, sowie der chromatographischen und massenspektrometrischen Analysenbedingungen.
Weitere Informationen über Shimadzu LCMS-Systeme
Ionenpaarreagenz oder PFPP-Säule

Eine neuentwickelte Analysenmethode unter Verwendung einer PFPP-Säule bietet wahlweise einen alternativen analytischen Ansatz zum klassischerweise verwendeten Ionenpaareagenz. Damit sind sowohl die chromatographischen Bedingungen als auch die Targetkomponenten frei wählbar.
Unterstützt die komplette Triple-Quad LCMS-Serie

Das Methodenpaket Primärmetaboliten unterstützt die komplette aktuelle Serie von UFMS Triple-Quad-Massenspektrometern (LCMS-8040, 8045, 8050 und 8060). Die einzigartig schnellen Scanraten und Polaritätswechselzeiten der Systeme liefern dabei ein Maximum an Datensicherheit.
Von der Probenvorbereitung bis zur Analyse

Mitgelieferte Protokolle zur Probenvorbereitung biologischer Extrakte sparen dem Anwender Zeit und Geld. Die Protokolle sind dabei so einfach gehalten, dass auch Labore ohne besondere Erfahrung über Extraktionstechniken die beschriebenen Schritte der LC/MS/MS Probenvorbereitung leicht durchführen können.
Normalisierung von Messergebnissen

Das Methodenpaket Primärmetaboliten enthält zusätzlich zu den Messbedingungen der Analyten optimierte analytische Bedingungen zur Messung zweier interner Standardsubstanzen. Damit können die Messergebnisse über zahlreiche Messungen hinweg normalisiert werden.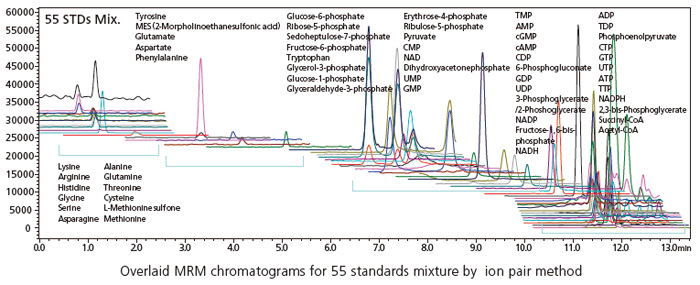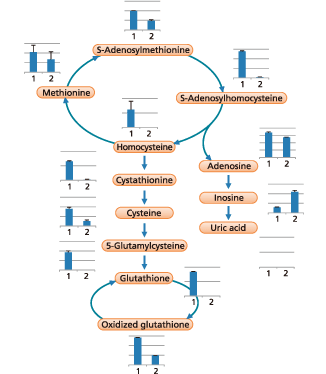 Area ratio comparison between two tissues focused on methylation cycle
Komponentenliste der Ionenpaarreagenzmethode
Glycolytic system
Nucleotides
2,3-Bisphosphoglyceric acid
3-Phosphoglyceric acid
(2-Phosphoglyceric acid)
Dihydroxyacetone phosphate
Fructose 1,6-bisphosphate
Glucose 1-phosphate
Glucose 6-phosphate
Glycerol 3-phosphate
Phosphoenolpyruvic acid
Pyruvic acid
Adenosine 3',5'-cyclic monophosphate
Adenosine diphosphate
Adenosine monophosphate
Adenosine triphosphate
Cytidine diphosphate
Cytidine monophosphate
Cytidine triphosphate
Guanosine 3',5'-cyclic monophosphate
Guanosine diphosphate
Guanosine monophosphate
Guanosine triphosphate
Thymidine diphosphate
Thymidine monophosphate
Thymidine triphosphate
Uridine diphosphate
Uridine monophosphate
Uridine triphosphate
Co-enzyme
Pentose-phosphate pathway
NAD
NADH
NADP
NADPH
6-Phosphogluconic acid
Erythrose 4-phosphate
Ribose 5-phosphate
Ribulose 5-phosphate
Sedoheptulose 7-phosphate
TCA cycle
Internal STDs
Acetyl coenzyme A
Succinyl coenzyme A
2-Morpholinoethanesulfonic acid
Methionine sulfone
Amino acids
Alanine
Arginine
Asparagine
Aspartic acid
Cysteine
Glutamic acid
Glutamine
Glycine
Histidine
Lysine
Methionine
Phenylalanine
Serine
Threonine
Tryptophan
Tyrosine
Komponentenliste der PFPP-Säulenmethode
Glycolytic system
Organic acids
Lactic acid
Pyruvic acid
4-Aminobutyric acid
Adenylsuccinic acid
Argininosuccinic acid
Cholic acid
Creatine
Nicotinic acid
Ophthalmic acid
Orotic acid
Pantothenic acid
Taurocholic acid
Uric acid
TCA cycle
2-Ketoglutaric acid
Aconitic acid
Citric acid
Fumaric acid
Isocitric acid
Malic acid
Succinic acid
Amino acids
Nucleosides and Nucleotides
4-Hydroxyproline
Alanine
Arginine
Asparagine
Aspartic acid
Asymmetric dimethylarginine
Citrulline
Cystine
Dimethylglycine
Glutamic acid
Glutamine
Glycine
Histidine
Homocystine
Isoleucine
Leucine
Lysine
Methionine sulfoxide
Ornitine
Phenylalanine
Proline
Serine
Symmetric dimethylarginine
Threonine
Tryptophan
Tyrosine
Valine
Adenine
Cytosine
Guanine
Thymine
Uracil
Xanthine
Adenosine
Cytidine
Guanosine
Inosine
Thymidine
Uridine
Adenosine 3',5'-cyclic monophosphate
Adenosine monophosphate
Cytidine 3',5'-cyclic monophosphate
Cytidine monophosphate
Guanosine 3',5'-cyclic monophosphate
Guanosine monophosphate
Thymidine monophosphate
Co-enzymes
FAD
FMN
NAD
Methylation and Transsulfuration cycle
Others
Cystathionine
Cysteine
Homocysteine
Methionine
2-Aminobutyric acid
Acetylcarnitine
Acetylcholine
Allantoin
Carnitine
Carnosine
Choline
Citicoline
Creatinine
Cysteamine
Dopa
Dopamine
Epinephrine
Histamine
Hypoxanthine
Kynurenine
Niacinamide
Norepinephrine
Serotonin
5-Glutamylcysteine
Glutathione
Oxidized glutathione
S-Adenosylhomocysteine
S-Adenosylmethionine
Internal STDs
2-Morpholinoethanesulfonic acid
Methionine sulfone
Remarks and Precautions:
For Research Use Only. Not for Use in Diagnostic Procedures.
Shimadzu makes no warranty regarding the accuracy of information included in the database or the usefulness of information obtained from using the database.
It is the user's responsibility to adopt appropriate quality control tests using standard samples to confirm qualitative and quantitative information obtained with this method package.