The new turbomolecular pump and highefficiency analysis enables a variety of highsensitivity analysis.
New LargeCapacity Differential Vacuum System
A more stable vacuum system was achieved by using a new turbomolecular pump that offers higher evacuation efficiency. Consequently, it is able to maintain a high vacuum level even during MRM analysis with a collision gas introduced, which enables highly accurate trace analysis.
HighEfficiency Collision Cell UFsweeper™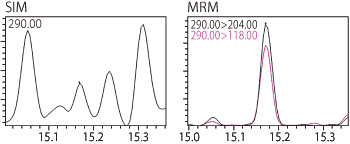 Shimadzu's proprietary UFsweeper technology achieves highspeed MRM analysis at speeds up to 800 transitions per second. It sweeps residual ions from the collision cell to provide highefficiency CID and fast ion transport. Rapid ion removal minimizes crosstalk and enables trace analysis (patent pending).
Sensitivity and Repeatability in Single GC/MS Mode
The highefficiency ion source provides the foundation of an ion generation and transmission system, which creates and then delivers ions to the detector, resulting in a GC/MS with the maximum possible sensitivity and repeatability. These features are not realized just for MRM measurements by GCMS/ MS, but also for scan and SIM measurements in single quadrupole modes, even with the most reactive compounds.

For Research Use Only. Not for use in diagnostic procedures.
This page may contain references to products that are not available in your country.
Please contact us to check the availability of these products in your country.