Höchste Flexibilität
Automatisierte Vorbereitung der mobilen Phase durch Solvent Blending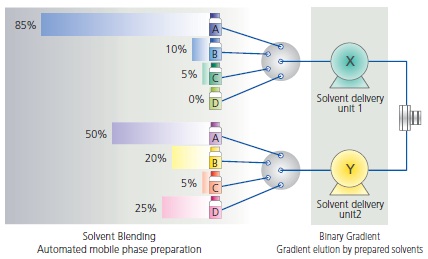 Der modulare Aufbau der Nexera X2 ermöglicht eine Lösungsmittel-Mischfunktion, die Lösungsmittel nach gewünschten Verhältnissen vormischen kann. Diese Funktion ermöglicht die Verdünnung des Lösungsmittels, eine Puffervorbereitung oder das Zufügen von Modifiern zur Vorbereitung der mobilen Phase.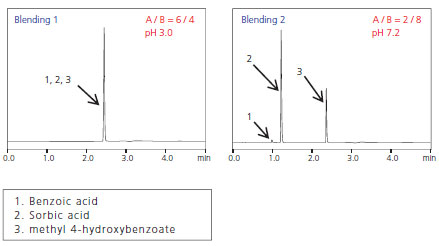 Puffer pH-Werte können mit der Lösungsmittel-Mischfunktion, wie rechts in den Chromatogrammen gezeigt wird, optimiert werden. Die Funktion ist ein nützliches Werkzeug, um mobile Phasen in der Methodenentwicklung zu optimieren.

Kombination von UHPLC / HPLC System und Solvent Blending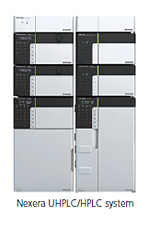 Die Lösungsmittel-Mischfunktion kann zu einer Nexera UHPLC / HPLC durch ein Upgrade der Konfiguration hinzugefügt werden. Das System unterstützt alle Prozesse von der Methodenentwicklung bis hin zum Methodentransfer von HPLC zu UHPLC Analyse.
For Research Use Only. Not for use in diagnostic procedures.
This page may contain references to products that are not available in your country.
Please contact us to check the availability of these products in your country.